INTRODUCING THE NEW VAULT DOOR BY CHAMPION SAFE
Our new vault door is constructed with the same strength and technology as the gun safes we build. Take a look at the key features which sets our vault doors apart.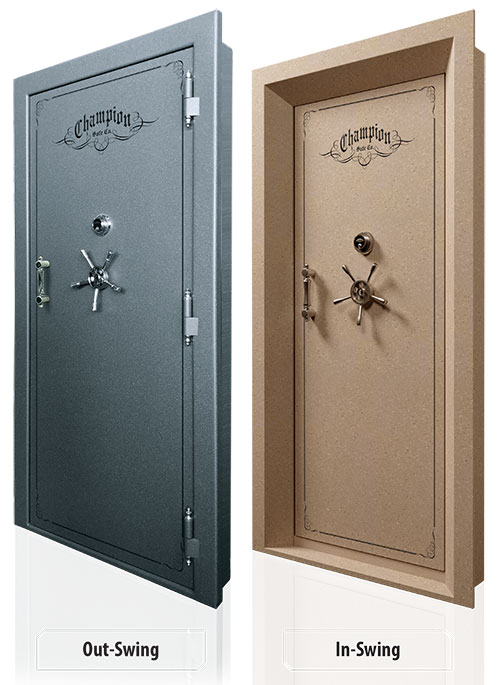 Outer Door Steel Thickness
   1/4″ Steel Plate
Inner Door Steel Thickness
   Full 12-Gauge Steel Plate
Door Frame Steel Thickness
   1/4″ Steel Plate
Door Thickness
   4-1/2″ Double Plate Steel
Vault Door Weight
   820 lbs.
Rough Door Opening
   38″W x 83″H
Door Frame Dimension
   43″W x 84″H
Number of Door Bolts
   24 – 1-1/2″ Active (Out-Swing)
   21 – 1-1/2″ Active (In-Swing)
Fire Insulation
   2 Layers of 5/8″ Type X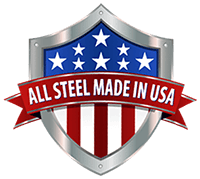 DOUBLE-PLATE STEEL DOOR™
Champion vault doors are constructed of two thick, A36 carbon steel panels with sandwiched fire insulation. This design gives greater rigidity, hence more security and better fire protection.
THREE EXTERNAL HINGES
To support the weight of Champion's massive vault door, external ball-bearing hinges are used. External hinges offer greater rigidity and a wider door opening.
INSIDE DOOR QUICK RELEASE
For safety and added security, a quick release lever is installed to the interior side of the vault door for the prevention of accidental lock-ins and fast release of the locking mechanism within the door.
ACTIVE BOLTWORKS
According to many lock-smiths, Champion Safe Company has "the strongest, smoothest boltworks in the industry." Active bolts are featured on all Champion vault doors—no cheap dead bolts.
DELTA DOOR FRAME (In-Swing Models Only)
Mechanical engineers have long used triangular reinforcements to increase structural strength. The frame's delta shape provides strength and rigidity second to none.
ROYCE ROLL BAR
Because of the massive vault door's weight, a Royce Roll Bar has been added to provide a secure hand-hold for opening and closing the door. It relieves the locking mechanism handle from bearing the weight.